EBF 2017
BiomarkerBay will be attending the European Bioanalysis Forum (EBF) in Barcelona, Spain, from 15-17 November 2017.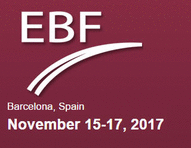 The 10th EBF open symposium has become a landmark for bioanalytical discussions in EU and has created a true Forum-like spirit where people meet and open discussions during sessions and presentations contribute to the development of an open mind in bioanalysis. The full program can be found at this link. 
Together with Ymke van der Geld, Business Director of BiomarkerBay, there will be Prof. Rainer Bischoff who will give a lecture with the title "Immunoaffinity mass spectrometry - the best of both worlds?" on Thursday November 16 (Day 2). 
Are you attending the meeting too? 
Would you like to know more about BiomarkerBay? Get in contact here.